Volvo XC60 vs. XC90: Interior, Specs & Dimensions Comparison
Our Volvo XC60 vs. Volvo XC90 page will put all the facts and figures side-by-side. These two SUVs aren't rivals. They're stablemates. Each one offers you a luxurious passenger experience with world-renowned safety, innovation, and style. Our vehicle experts will show you what's similar and different so that you can pick the perfect one for your family's adventures.
Volvo XC60 vs. Volvo XC90 Interior & Features
From the driver's seat, the Volvo XC60 vs. Volvo XC90 are almost identical. Both models give you keyless entry, keyless start, a 12.3 inch digital dash, a 9 inch touchscreen infotainment center, a revised center console, leather seats, and a power moonroof.
As far as options are concerned, the Volvo XC60 vs. Volvo XC90 share the same available features, including Nappa leather, massage seating, a heads-up display, a deployable child booster system, and a gear shifter made out of pure Orrefors crystal.
They differ on the inside because the Volvo XC90 comes with a standard third-row (unavailable on the Volvo XC60) and offers available captain's chairs for passengers. On the other hand, the Volvo XC60 features the latest infotainment software powered by Google. These small but notable differences make the Volvo XC90 vs. Volvo XC60 a tough choice.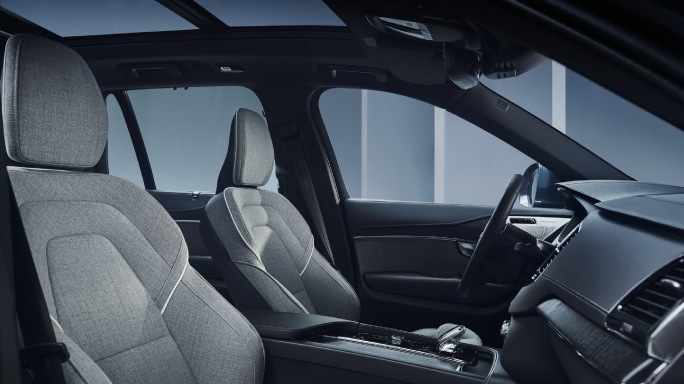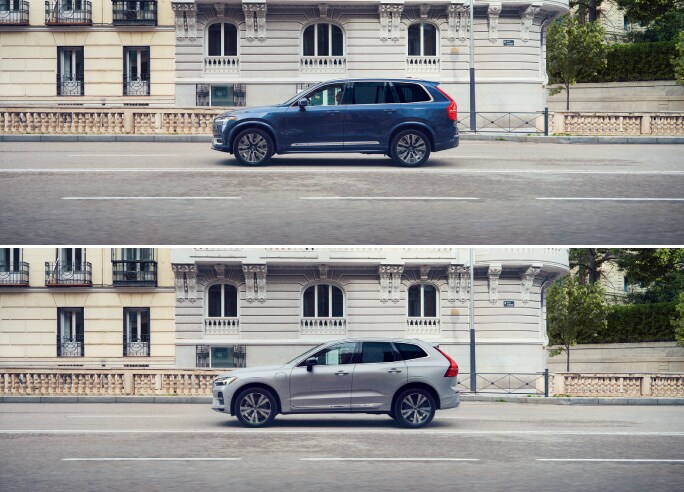 Volvo XC60 vs. Volvo XC90 Performance Specs
As you might have guessed, the Volvo XC60 vs. Volvo XC90 comparison sheds some light on little differentiation. Hybrid powertrains are the same, but the Volvo XC60 has a model year changeup with its gas-powered engines. Both share all the latest enhancements, so let's take a look at what we've got under the hood.
The Volvo XC90 features the long-running T5 engine with 250 horsepower and a T6 engine with 316 horsepower. The Volvo XC60 introduces mild hybrid (MHEV) versions of those engines, calling them the B5 and B6. The B5 & B6 motors use a 48-V battery that operates exclusively on the engine (unlike conventional hybrids whose battery helps power the wheels). The B5 offers 247 horsepower, and the B6 gives you 295 horsepower.
When it comes to the Volvo XC90 vs. Volvo XC60 plug-in hybrids, you'll enjoy an extended all-electric range with a boost in power to 455 horsepower. All models (plug-in hybrid, MHEV, and gas) share the same eight-speed automatic transmission. This transmission gives you configurable drive modes, including a mode you can customize. FWD, AWD, and eAWD are available, as is air suspension.
Volvo XC60 vs. Volvo XC90 Dimensions
The agile Volvo XC60 stretches to 185.4 inches overall with a 112.8 inches wheelbase. She's 65.3 inches tall and 75.4 inches wide with mirrors extended. You'll enjoy having 30 cubic feet in the cargo area while passengers get to relax in 103 cubic feet of total passenger volume.
The flagship Volvo XC90 is 195 inches bumper to bumper with a 117.5 inches wheelbase. 69.9inches is the max height, and with mirrors out, she's 75.7 inches. A whopping 132 cubic feet carry you and yours in total comfort.

Volvo XC60 vs. Volvo XC90 Safety
Both of these SUVs have the highest possible safety ratings from the IIHS and the NHTSA. This is due, in part, to the unique construction under their skin. Both models feature an inner cage made out of five grades of steel. Each section is designed to either absorb or deflect collision energy in the event of an accident. The Volvo XC90 vs. Volvo XC60 are also equal with standard equipment like adaptive LED headlights, high-beam assist, blind-spot monitoring, lane-keep assist, lane-departure warning, oncoming collision mitigation, driver alert monitor, and run-off-road-protection (a Volvo Cars exclusive).
Volvo XC90 vs. Volvo XC60 FAQs
What's the difference between the Volvo XC60 and the Volvo XC90?
The most significant difference between these two Swedish luxury SUVs is the third row which comes only on the larger Volvo XC90. From the outside and cabin, these vehicles offer all the same features, luxury, standard safety, and technology. A performance edition known as the Polestar Engineered model is unique to the Volvo XC60.
Which is bigger, the Volvo XC60 or the Volvo XC90?
The Volvo XC90 is the larger mode among these two SUVs. It offers 132 cubic feet of passenger room and stretches 195" from bumper to bumper.
Which is safer? The Volvo XC60 or the Volvo XC90?
Both of these vehicles are Top Safety+ picks from the IIHS with five-star ratings from the NHTSA. Both of them feature the same standard mechanical and technological safety features. And both embody the vision that no one is significantly injured or killed in or by a Volvo vehicle in the future.
Want To Test Drive Our Volvo Selection? Contact Us!