2023 Volvo XC90 Vs. Audi Q7: Interior, Specs & Dimensions
There is a flagship luxury SUV in your future, and to find which is right for you, you will want to compare the 2023 Audi Q7 vs. Volvo XC90. When you do, you will discover that the Volvo XC90 exceeds the Q7 with all-encompassing benefits. From generous standard features to more MPG, the three-row Volvo XC90 is ready to satisfy.
Compare the Volvo XC90 versus Audi Q7 below. Contact us to test drive the Volvo XC90 when you're ready to see all the intricate detailing of this Scandinavian luxury SUV.
Volvo XC90 vs. Q7 Interior Benefits
Optional benefits in an Audi Q7 can often be standard in a Volvo XC90. For example, the Audi Q7 vs. Volvo XC90 features begin with a standard wireless smartphone charger in the Volvo XC90 — it's optional in a Q7. The Volvo XC90 doesn't just pick up the Q7 SUV's optional vs. standard slack — it exceeds even its seemingly generous features.
An Audi Q7 gives you standard three-zone auto climate control. The Volvo XC90 offers an optional four-zone auto climate control system with innovative sensors that can detect harmful particles in the air. The Audi Q7 has a standard sunroof, while the Volvo XC90 has a standard panoramic moonroof with a temperature-detecting, auto-closing sunshade.
The available Audi Q7 vs. Volvo XC90 features let you equip both SUVs with massaging front seats, a 360-degree camera system, air suspension, and more. Choose the Audi Q7 luxury package for these features and individual contour seats.
With a lower starting price, the Volvo XC90 gives you easier access to more standard features than the Audi Q7.
In the realm of safety, the 2023 Volvo XC90 offers advanced driver assistance technology that will help you keep a safe distance from other cars and warn you of any danger from the front of your vehicle. The 2023 Audi Q7 offers a similar feature for the rear and blind spots to help keep you and your passengers safe.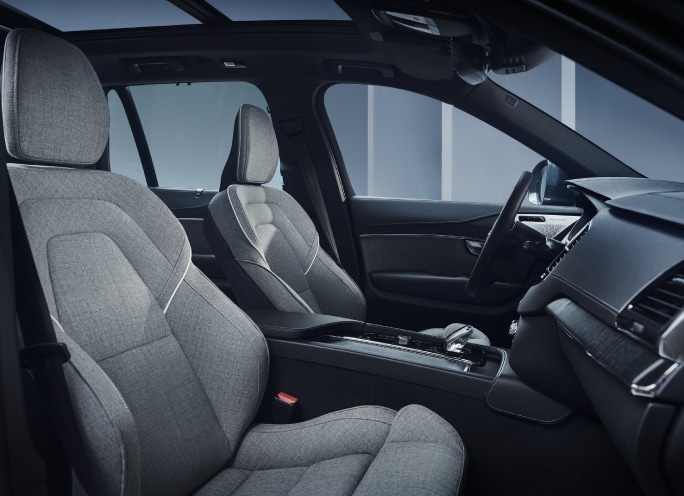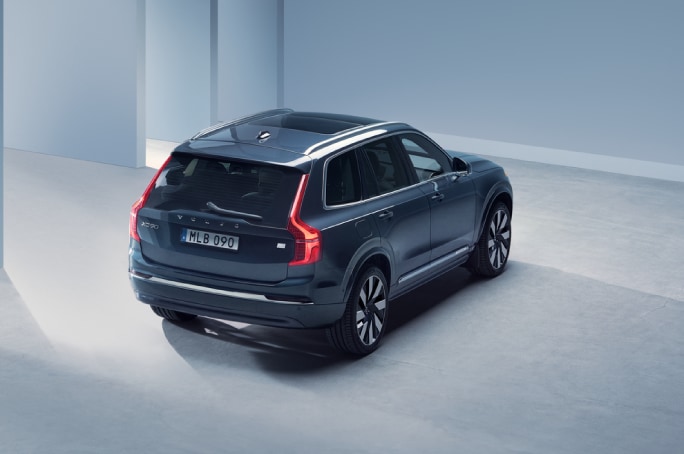 Q7 vs. Volvo XC90 Performance & Efficiency Specs
Compare the Audi Q7 vs. Volvo XC90 performance, and you'll find that the Volvo XC90 continues to outpace the Q7.
The standard Audi Q7 makes 261 horsepower, while the standard Volvo XC90 B5 AWD makes 247 horsepower, but the Volvo XC90 B6 AWD offers 295 horsepower. This Audi Q7 configuration delivers an EPA-estimated 19/25/21 MPG (City/Highway/Combined),1 while the Volvo XC90 B5 AWD delivers an EPA-estimated 22/28/25 MPG (City/Highway/Combined).2
The Audi Q7 has an available 335 horsepower engine on the Premium 55 trim, offering enhanced power and capability. With the upgraded Audi Q7 vs. Volvo XC90 specs, the Volvo XC90 is still more efficient. The Volvo XC90 B6 AWD delivers 20/26/22 MPG (City/Highway/Combined).2
The Audi Q7 power levels end here. Opting for the Volvo XC90 Recharge, which includes a T8 eAWD Extended engine, will net you a whopping 455 horsepower. This model also offers a 35 electric mile range,3 making the Volvo XC90 or Volvo XC90 Recharge your choice for more power and efficiency while saving big at the pump.
Volvo XC90 vs. Audi Q7 Dimensions & Capacities
When comparing the Audi Q7 vs. Volvo XC90, interior room is important; the Volvo XC90 can exceed the Audi Q7's roominess.
The Audi Q7 ranks in at 199.3 inches while the Volvo XC90 is 195 inches long, making the Volvo XC90 slightly shorter in length. The Audi Q7 is also marginally wider than the Volvo XC90 but offers less cargo room. Specifically, the Volvo XC90 can carry up to 85.7 cubic feet of cargo, while the Audi Q7 offers 69.6 cubic feet of maximum cargo room.
First and second-row Audi Q7 vs. Volvo XC90 specs are similar, but the Volvo XC90 dramatically exceeds the Audi Q7's third-row specs.
In particular, third-row passengers will enjoy 36.3 inches of headroom and 31.9 inches of legroom in a Volvo XC90; they'll be limited in an Audi Q7 since the maximum amount of cabin room is overall smaller.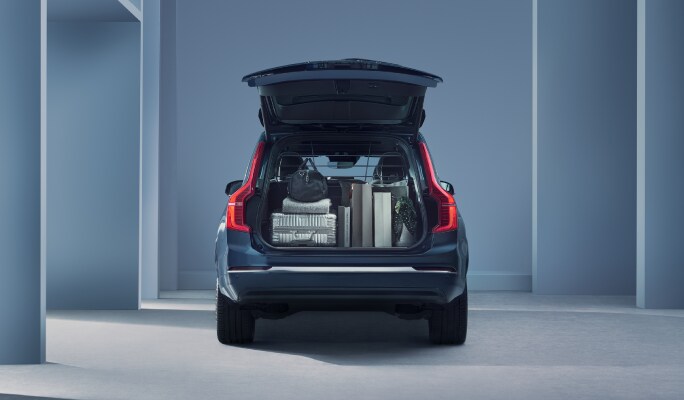 Discover Your Next Volvo XC90 With Us
Now that you've tasted the advantages of a new Volvo XC90, we bet you're looking to learn more about this competitive luxury SUV. If that's the case, call our Volvo sales team to set up a full tour and test drive today.
Frequently Asked Questions
Is Audi Q7 bigger than Volvo XC90?
Yes, the Audi Q7 measures a few inches longer and wider than the Volvo XC90, but the Volvo XC90 is slightly taller. Despite being the smaller SUV, the Volvo XC90 offers extra maximum cargo room and will make you and all your passengers more comfortable.
Which is safer: the Volvo XC90 or Audi Q7?
With a long history of market-leading safety innovations, you may find more on-road confidence in this Volvo SUV. However, both vehicles are outfitted with standard safety features that differ from each other. You can rest assured your passengers are safe in either option.
Which is better: the Volvo XC90 or Audi Q7?
When you compare the 2023 Volvo XC90 vs. Audi Q7, you'll discover that the Volvo XC90 offers a lower starting price, more cargo room, more third-row spaciousness, comparable power and efficiency, and standard features that are options on the Audi Q7; it can quickly become your "better" SUV.
Want To Test Drive Our Volvo & Audi Selection? Contact Us!
* Indicates a required field
Continue Your Vehicle Research:
---
119 city/25 highway/21 combined city/hwy MPG (Audi Q7). EPA estimates. Your mileage will vary and depends on several factors including your driving habits and vehicle condition.
2For more information, please visit the official U.S. government source for all fuel economy at fueleconomy.gov
3Estimated range according to the EPA driving cycles. The actual range achieved under real conditions varies depending on driving behavior, driving conditions, how you maintain your vehicle, battery and other external factors. Visit fueleconomy.gov for further information.