Volvo XC40 Recharge Pure Electric For Sale In South Florida
---
We'll start off with the innovative new Volvo XC40 Recharge for sale in Fort Lauderdale, FL. This all-electric SUV offers versatility, power, and savings at the pump to families in South Florida. It's time to grab your surfboard and get onto the all-electric wave of the future.
This article is going to give you all the details you need about the 2022 Volvo XC40 Recharge. We will cover the vehicle's specs, including its driving range, its interior, and more. Read on to find out how this all-electric SUV can serve you and your family well for years to come.
Volvo XC40 Recharge Range
The Volvo XC40 SUV offers a fantastic driving range without the need to spend a penny at the pump. It can drive up to 223 miles 1 on a single charge. That's more than enough range to travel pretty much anywhere in South Florida without having to stop and charge up your vehicle.
Electricity is not, of course, measured the same way gasoline is. Despite this fact, the EPA has designed a metric to give drivers an idea of the efficiency offered by electric vehicles. The 2022 Volvo XC40 Recharge pure electric SUV gets a whopping EPA-estimated 92/79/85 MPGe (city/highway/combined).1 This amazing efficiency will really help you find some room in the family budget for something other than gasoline.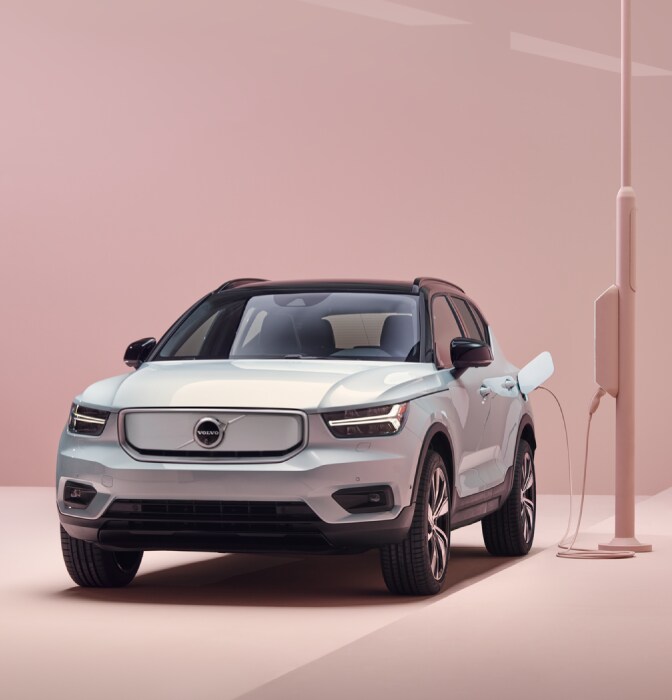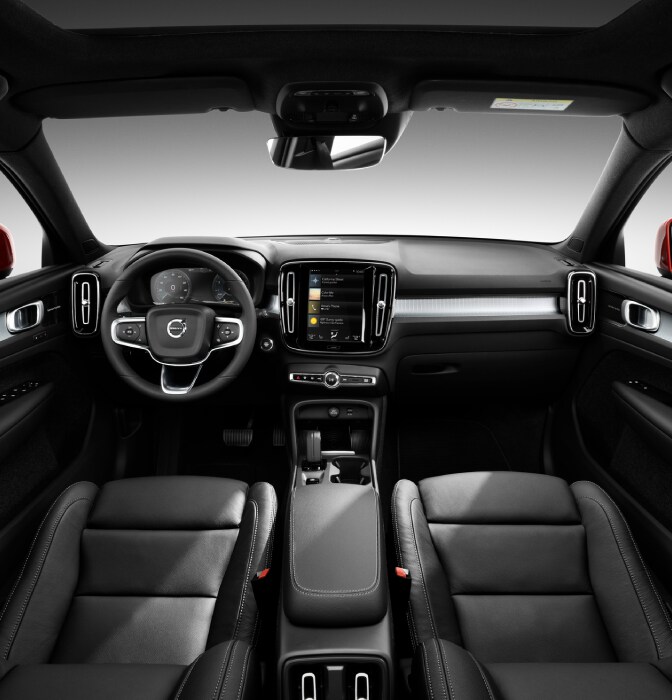 Volvo XC40 Recharge Interior
One might worry that the Volvo XC40 Recharge would sacrifice refinement in the name of fuel efficiency, given the astonishing degree to which it is an efficient vehicle. Volvo Cars, however, does not like to make trade-offs like this, and they have not done so when it comes to the interior of the Volvo XC40.
The Volvo XC40 Recharge is a spacious vehicle. With 40.9 inches of legroom in the front and 36.1 inches in the second row, neither you nor your passengers will feel cramped in this SUV. With the seats up, it has 25.0 cubic feet of cargo space, which means that the entire family and all of their luggage will fit in the 2022 Volvo XC40.
Volvo Cars did not skimp on technology either. It has a standard 12.3-inch touchscreen display for controlling music and navigation. The Volvo XC40 also has a slew of safety features, no matter the trim you select. These include automated emergency braking with cyclist and pedestrian detection, lane-keeping warning, lane-keeping assist, and adaptive cruise control that even features an autonomous driving mode. The future is here.
Volvo XC40 Recharge Price
With all of the incredible features outlined above, you may be well concerned that the 2022 Volvo XC40 Recharge pure electric vehicle is absurdly expensive. Volvo Cars, however, wants electric vehicles to be accessible to everyone. You'll find that regardless of the trim you select, the Volvo XC40 is affordable, especially when compared to its rivals in the electric SUV segment.
We offer a wide selection of Volvo electric vehicles here at our dealership in South Florida. These include the all-electric Volvo C40 and the wide array of plug-in electric Volvo hybrids like the XC60 Recharge. Whether you want to buy Volvo XC40 Recharge or another Volvo vehicle, our dealership is the place to do it.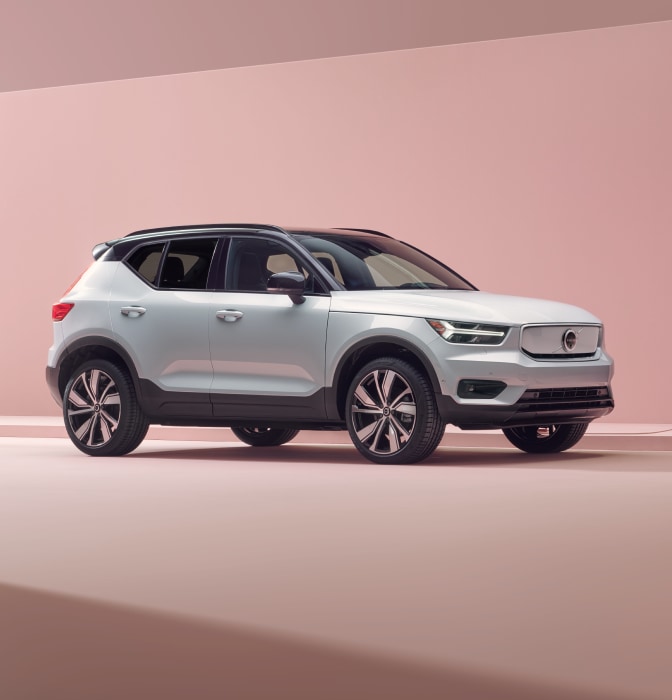 Frequently Asked Questions
How many miles does a Volvo XC40 Recharge get per charge?
When fully charged, the Volvo XC40 Recharge has an EPA-estimated 223 miles of range.2 Going the distance is exciting, and each mile will be thrilling, too. This powerful all-electric luxury SUV delivers 402 horsepower, and with its standard AWD setup, it can zip from 0 to 60 mph in just 4.7 seconds. With fast-charging capabilities to boot, the Volvo XC40 Recharge is ready to satisfy.
How long does the Volvo XC40 Recharge battery last?
The Volvo XC40 Recharge battery can naturally wear out with age. However, if the battery has a usable capacity under 55% of its original specifications within eight years or 100,000 miles of delivery, it can be replaced for no cost under the Volvo Hybrid & Electric Vehicle Battery Warranty.3 This is dependent on the vehicle and battery being maintained and driven in a manner that meets the brand's recommendations.
How big is the Volvo XC40 Recharge?
The Volvo XC40 Recharge is a compact crossover SUV that measures 174.8 inches long, 75.2 inches wide (excluding mirrors), and 65 inches tall. Despite its supremely agile dimensions, the Volvo XC40 Recharge offers interior measurements like 36.1 inches of rear legroom and 57.5 cubic feet of maximum cargo volume behind the first row. Feel this compact agility and immense roominess today with a test drive.
Volvo XC40 Recharge for Sale
We are proud to offer the all-electric 2022 Volvo XC40 Recharge for sale to our community here in Fort Lauderdale, FL. Our whole team is dedicated to customer service; you'll see this in our smiles when we greet you at the dealership. We have a crack finance team that will work closely with you to get you the low-rate financing offer you deserve.
The proliferation of electric vehicles in recent years makes it clear that they are here to stay. If you're looking for an electric car dealer in South Florida, then we are your best bet. We have an expansive selection and a friendly team. Contact us to schedule a test drive today.
View Other Vehicles For Sale In South Florida:
Find A Gunther Volvo Dealer Near You
---
1This is an electric vehicle. Since electricity is not measured in gallons, a conversion factor is used to translate the fuel economy into miles per gallon of gasoline equivalent (MPGe). EPA-estimated 85 city/72 highway/79 combined MPGe. Use for comparison purposes only. Your MPGe will vary for many reasons, including but not limited to, driving conditions, how and where you drive, how you maintain your vehicle battery-package/condition, and other factors. For more information, including information on MPGe, see www.fueleconomy.gov
2Anticipated range is according to WLTP and EPA driving cycles and real-world range may vary.
3Warranties listed on this webpage shall not be solely relied upon. Warranties may be subject to specific terms, restrictions, exclusions, and fees. Additional warranty information may be obtained by visiting the official website of the warranty provider. Contact our dealership for complete details.